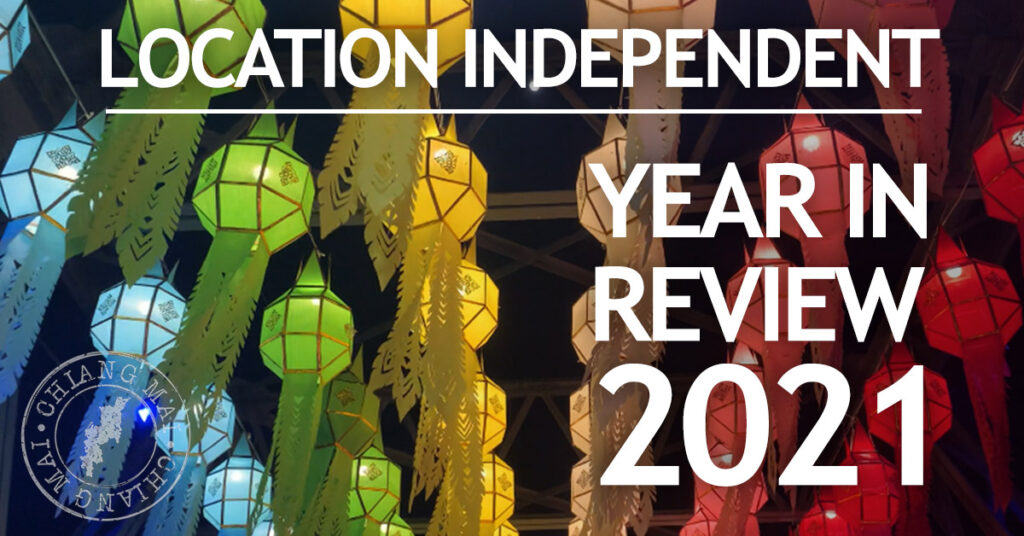 It's yet another end of year post! For the last few years I've been writing a little roundup of what's been happening in my world, it definitely helps me appreciate my time, and hopefully makes for (semi) entertaining reading and gives you some insight to my life and location independent adventures.
My last update and indeed my last blog post (oops) was written at the start of 2020, where I wrote "8 location independent musings". Previous to that it was my "lessons learnt", but this year is less musings, less lessons learnt, and basically just "I dun this". Hopefully it's still enjoyable. Let's go.
Table of contents
Manual work feels good
I started the year at my apartment in London. London is bloody amazing and I love it. Even though we were locked down and/or not going out much, it was great to explore the city when we could, see family and friends, and enjoy the bars, food and restaurants on offer. Plus my girlfriend got to see snow for the first time!
I realised it had been a while since I have renovated my apartment, so thought I'd give it a go. I changed all the window frames, window panes, redecorated every room, cleaned out gutters, caulked, painted, screwed, hammered, assembled new furniture, installed new heaters… anyway, it was a lot of work but also loads of fun! I really enjoyed it, even if it did tire me out each day.
I've never really done much manual / physical work, and apart from doing the odd day on a building site when I was younger I've been at a desk all my adult working life. So getting to do stuff myself was really cool. It was great to put in real physical effort, and the whole "destroy to rebuild" element is very scary at first, but you then see improvements in front of your eyes and it all works out OK.
That's not to say there wasn't a few panicked calls to my Dad for advice or a night of watching YouTube videos to prepare for the next days work!
I was so in to this renovation thing I spent a bit of time (OK, a lot) scouring over run down properties to buy at auction and online – from £100K houses in Leeds (HS2 train could make it desirable in future), to £50K houses in Grimsby (cheap and on the seaside), to the 1 Euro houses in Italy (this quickly seemed like a terrible terrible idea) and finally to Bulgaria (which I still think is a great idea as property/land is so ridiculously cheap).
After registering for a few online auctions and getting completely outbid on UK properties (the UK market is crazy), and being reluctant to buy abroad without seeing the area, I put this idea on the back burner, but I still think I'd love to do something like this.
Some areas of Bulgaria seem like a real winner – the area near to Greece and Turkey especially, the temperatures seem great, there's wineries, you're an hour from the sea, a few hours from Istanbul (and from there the world), and you can buy massive plots of land for next to nothing.
Would be amazing if a load of cool people all targeted one area and made investment in it. I love what Coworking Bansko is doing in, um, Bansko, but the climate there is definitely not as good the further east you go.
Deciding on the next place to live
It's now March.
After a meeting with my accountants, I'm annoyed. I've spent far too much time in the UK in 2020/2021, and my tax bill is going to be huge.
Poor planning from lazy Jimmy.
With the new UK tax year starting in April and my partners visa up around the same time, it made sense to get out of the UK and be somewhere else.
After evaluating a ton of places we started to prioritise what we wanted. The place we went had to be:
somewhere we can both stay long term (1-2 years minimum) as I was pretty sure COVID wasn't going away,
we wanted to live in a house with a garden, because if there is another lockdown we didn't want to be stuck indoors,
had to be affordable, otherwise we might as well stay in London,
had to be a place where I could get by without knowing the lingo – I know from experience places like Cyprus ain't great if you're a foreigner, and learning a new language just seemed like a lot of effort (so Portugal or South America was out).
After a lot of back and forth, we decided on Thailand, more specifically Chiang Mai.
So damn predictable!
We both love Chiang Mai, COVID cases were low, it's affordable, guaranteed good internet, I have friends there, and I was pretty sure we could rent a house for not a lot. Decision made.
So by the end of April we were on our way to Thailand, where we had an empty 787 plane to entertain ourselves on, finally arriving in Bangkok and being ushered to a quarantine hotel where we had to spend 15 nights locked up.
Thankfully I'd booked us a suite and even rented a running machine so we didn't go completely insane during the two weeks of quarantine.
It turned out to be all pretty easy, getting 3 half-decent meals delivered to the door each day, being free to order anything you like from Grab – it was more like a holiday than a quarantine, except the swabs up nose stuff.
The rules to enter Thailand now have relaxed, and Thailand is still devoid of tourists, it's still a great time to come, and with new variants popping up all over the place, why get locked up at home?
Life in Chiang Mai
It was superb to finally get to Chiang Mai, I really missed it, and it is such an easy place to live. We booked an apartment for a week on AirBnb, ordered our favourite takeaway (my love for RAWR fried chicken is a matter of public record), rented a car (just say no to scooters), contacted a shit ton of property agents and started viewing property.
We saw A LOT of houses, ranging from £250-£1,000 per month in rent, and didn't really love that many. I'm a picky old git, and none of them were quite right – badly laid out, too noisy, soi dogs, no western kitchen, no privacy, asian auntie style decorations, too far out of town…
We really loved the Serene Lake area (probably because there was so much outside space and we'd been indoors for 4 months) but the houses we saw there we either didn't love or weren't available immediately.
After extending our AirBNB another week, we still hadn't found what we wanted. It was a full time job looking for property and dealing with the agents, and I was getting a bit frustrated with it, as well as the cost of an Airbnb per week is about the same as a months rent, so we needed to make a decision quick.
My heart told me to go with Serene Lake, so we went back to the very first property we looked at, decided we could make it work, and signed the contract. We had a house.
Six months later, coming to Chiang Mai was an amazing decision. Thailand is still very quiet, COVID cases are very low, there aren't really any tourists, hotels have some great prices, you can easily get a table at your favourite restaurants, traffic is quiet, and services like Grab and LINE Man means you never need to leave your home to get anything delivered if you want. Yeah you have to wear a mask when you go out, but other than that, it's an easy life.
(If you're interested in more about life in Chiang Mai and cost of living that doesn't revolve around staying in a $100 per month studio room and eating 40 baht pad thais each day, let me know in the comments and I can write something?)
Disillusioned with nomad life
I don't know if this is COVIDs fault, or if its just changes in me, but I'm finding I am caring less and less about "digital nomads". I'm still trying to figure this out in my head, but ultimately, I'm a bit disillusioned with the whole "digital nomad" thing.
I guess a big part of it is that I've got almost zero desire to travel anymore due to uncertainty, tests, paperwork, masks, quarantines etc etc.
I've also stopped going to coworking spaces as often as I used too, so I've stopped interacting with nomads in real life.
Covid has forced me to love the home office, and now my home office is so great, I class coworking spaces as somewhere I go to see friends and hang out. A distraction from real work!
Away from real life and going online, I've also not had a great experience with some of the web-based nomad communities.
As you may know, I've been promoting the digital nomad lifestyle for a while, running some nomad communities, running meet-ups, blogging etc. That's cool. It's never really got me anything, I've never asked for anything. Happy to do it. But I've got nothing to promote or sell to nomads unlike some others, so maybe that's another reason why my interest is waining.
I'm a moderator/admin of a few nomad Facebook groups. One of them, Digital Nomads Around the World, has been grown to almost 150,000 members. The largest nomad group on Facebook.
A team of mods has helped grow the group over the last few years, dealing with the flow of 100+ posts per day, most of them spam, repeat questions, or dumb questions like "How 2 be digital nomad??".
It was thankless boring work that the mods did for a few years. None of the mods promoted their own stuff, they just did it for the movement.
Until that is one of the mods, Danish Soomro, who hadn't really put in any work moderating the group over the years, decided he wanted to make some money out of the group. One day all the others mods logged on to find out he had taken over the group, kicked all the mods out, and is now using the group to shill his products, saying he created the group.
So a few life lessons can definitely be learnt from that, but clearly the biggest is, why would anyone want to support a community run by a person like that? I fucking don't.
Another day, another community…
The Nomad List Slack community is an increasingly hostile and no longer a fun place to hang out. Loads of regulars who actually contributed interesting things have left or been banned (my original account was deleted for something that was not a violation of their terms of service… unfortunately for them I had more than one account).
Woe betide anyone who suggests that perhaps the moderation is a bit too strong. If you post and try to help someone, there is always someone to disagree. It's all just very draconian and no longer fun. I've stopped contributing, stopped posting and helping, same with many other people I know, they've all stopped using it (apart from one person).
I've checked in a couple of times over the last 6 months, but the place seems to be getting quieter and quieter. The community is definitely not worth whatever they charge nowadays, so don't bother with it, you don't need it.
I guess, ultimately, that online and in real life I'm disillusioned with and disconnected from "nomads" or whatever the people behind it are selling. I guess it's lucky I called this site Location Independent…
Buying a M1 MacBook ?
For the last 7 years I've been rocking a MacBook Pro 15″ from 2013. Top of the range when purchased, it's been a beast that has handled anything I've thrown at it. In that time it's had two new batteries and a new SSD, and only when using Docker does it start sounding like an airplane is taking off from my desk as the fans spin up.
I've been putting off buying a new MacBook for ages – the 2016-2018 models had an awful keyboard, plus that fucking awful touch bar. I considered buying a 2015 model, but the speed improvement over the 2013 model was negligible, and many of the 2012-2015 models have screen problems which is expensive to repair.
But a few months back I finally picked up a 2020 MacBook Pro M1. I got a cheap base model, in my mind it was going to be a laptop that I could just chuck in my bag and use anywhere without worrying about the battery.
And holy shit does it deliver.
It's a game changer.
The M1 is seriously quick and the battery life is insane.
With a full day of work running Docker, Xcode, Chrome and whatever else, I can still have plenty of battery left. Also fast charging gets the battery to about 80% capacity in 45 mins. The keyboard is great, the laptop is so small (I've only got the 13″ version) and generally, I freaking love it.
The M1 has managed to untether me from my desk again, once again able to work on the sofa without the laptop burning my bits, being able to grab the laptop quick when heading to a coffee shop, not constantly worrying about the battery or finding a charging outlet. Yes!
In September the M1 Pro was announced, I jumped online immediately to order a 16″ MacBook Pro Max with 32GB of Ram and 1TB hard drive. Being in Thailand, the laptops come with a Thai keyboard or you can place a special order for a model with US keyboard, which I felt was a better investment.
Ordering the US keyboard pushed back delivery time to 4-5 weeks. After 3 weeks, Apple Thailand emailed me to say there was a problem with my card and they cancelled the order. I tried to contact Apple Thailand, but it was just impossible for some reason, their phone didn't work, they offer no online support for store orders. I tried ordering again and again, using 3 different credit cards, but each time, after waiting 3 weeks, Apple Thailand would eventually cancel the order. So that was lame. That's been the first time I've had issues ordering something while abroad.
I'm currently in the process of moving all my work to the 2020 M1 base model so I can use it as my main machine. Even this 2020 base model is amazingly fast (albeit with a small SSD). I'm still on the hunt for a 2021 M1 model, but will now likely wait a bit longer for a 2022 update.
Long story short, if you want to buy a new laptop, buy anything with an M1 chip and you will not be disappointed.
Still coding but loving it
2021 has been a year of coding for me. I've done lots of projects for clients, which included a lot of custom WordPress development, a massive Laravel project (which is something I've wanted to do for ages and was super interesting), and I've got to mess around with JavaScript frameworks like React and Next.
As I mentioned in last years review, I am internally conflicted about coding for clients as I am being paid by the hour/project and it's not something that is passive, scalable, or earning while I'm sleeping etc.
But as I pick my clients, I generally only work on stuff I enjoy doing and that really helps. What I do rarely feels like work, which I am very grateful for.
When I arrived in Chiang Mai, I had a few client projects on the go at once, and I toyed with the idea of renting an office and filling it with local developers, being able to take on more jobs, do more work, etc. But I quickly realised then I wouldn't be doing coding, I'd be doing QA, project management and HR and that is exactly what I don't want to do. So I'm sticking with coding stuff myself for now.
I decided to make some effort to create some new coding-related projects that can reignite the entrepreneur in me. And as often happens, the ideas and inspirations for these projects came from doing client work and seeing gaps in the market.
WordPress is a major focus for me, but it's very uncool to work on WordPress, mostly as people don't use it properly, they hate PHP, they think PHP/WordPress is old fashioned, or they hire a developer for £2 an hour in India and wonder why their website is crap and blame WordPress.
WordPress is also open source, which means it doesn't have XYZ Evil Internet Corp behind it selling your data and spend a ton on marketing it (see any JAMStack/JavaScript framework).
Regardless, WordPress runs something like 40% of the internet as we know it, which means there is a massive market for developers (like me ?) or for plugins (hello, new business idea!).
So in 2021, I've released two WordPress plugins and acquired a WordPress plugin from a friend of mine.
The plugins are all commercial (i.e. not free), selling via CodeCanyon (Envato).
It's been a learning curve, but I'm now earning around $400 per month from WordPress plugins, and this is after CodeCanyon take over 50% of my earnings in fees. Time spent on developing the plugins and support is a few hours per month, so mostly passive income once the plugin is first developed. CodeCanyon do pretty much nothing for 50% of my sales, but they give me a platform to test my plugins out on. You gotta start somewhere!
Looking into 2022
I'll hopefully be spending the whole year based in Chiang Mai, but no doubt escaping the haze/smoke/burning season in Chiang Mai, which regardless of local commentators waving green and yellow AQI averages, starts whenever you go outside and all you can smell is burning.
In December we started having a few days like that, and once its constant, we're planning on driving south for a few months. Chiang Mai is a brilliant place if it wasn't for the smell of burning in the air for a few months.
I want to break out one of the plugins I run in to its own website, expand its feature set, and make it purchasable by subscription payment, which should let me build a business that is making a solid revenue per month and also have recurring revenue each year which will compound. Smallish numbers, but enough to make it worthwhile, and it's something I'm interested in (unlike, say, my Amazon FBA product business – which I sold at the start of 2021 and I am so glad I did).
I've been messing around with NFTs and web3 in my spare time, and I'm very keen to work on a project to do with that. Not quite sure what yet, but web3 is very exciting with lots of potential and it's really just getting started, with lots of new rules, new perspectives and new ways to make money (for some). If you have an idea and need tech skills, let me know.
I love Malaysia, and I really miss it. In 2022, I'll be buying a property in Kuching, which is a place I love and am a big promoter of.
The property is partly an investment (it's central to town so good AirBNB potential) and partly as somewhere to live when I spend more time there – getting in to Malaysia at the moment is almost impossible for foreigners, but I'll be heading back there as soon as borders are more open.
Let's all hope that COVID finishes itself off and we all stay safe, healthy and happy. If you've gone remote this year or toying with it and need some advice on becoming "location independent", feel free to drop me a message or leave a comment, as many people find I am happy to help answer any questions.
If you're reading this, let me know in the comments. If you're in Chiang Mai this year, hit me up and say hi. If you're drawing parallels with anything I wrote, write a comment and let me know I'm not crazy.