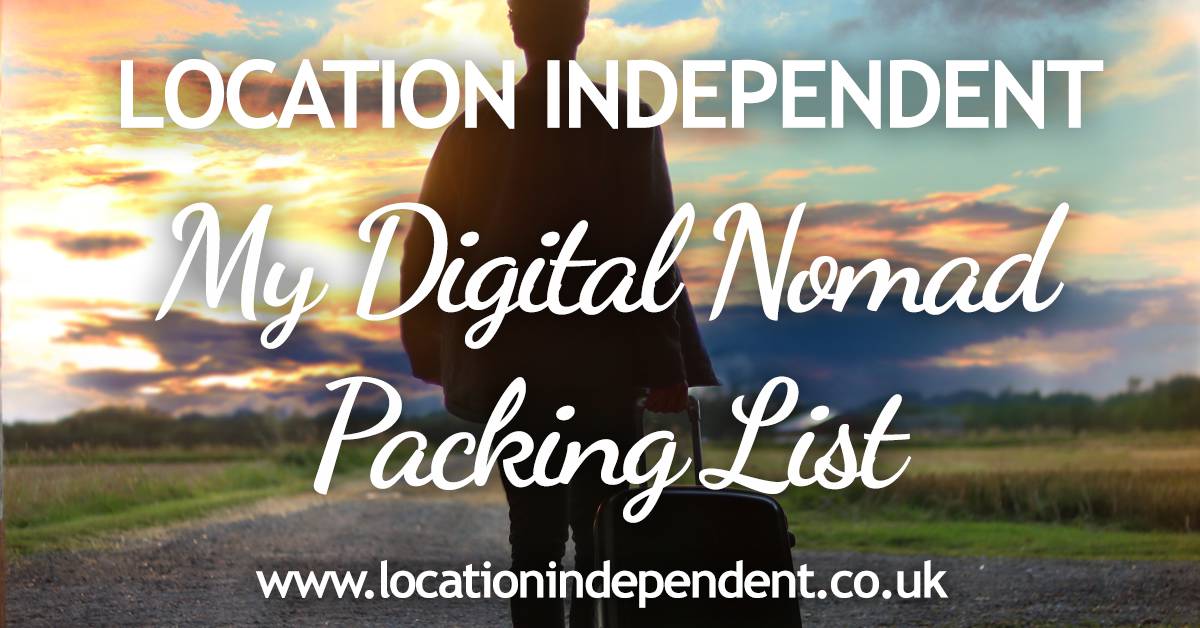 The most common questions I get asked through this blog are; what's on my digital nomad packing list, how I find cheap flights, and what credit cards I use when abroad. So I've put together my packing list and recommendations, including pretty much everything I use to book my travel, what I take when I travel, and what gear I use when I work, which should answer all of those questions in one guide.
Is this packing list right for you? Maybe, maybe not. I'm a slow traveller – I find staying around one month per place is good for me to understand a place and benefit from economies of scale. I travel minimally (but like 20Kg one large suitcase minimally), but I'm not a one small backpack type of guy. And over the years I've started packing things that I've found I can't live without (like coffee equipment), which means I always check a bag when I fly.
There seems to be lots of focus within the digital nomad scene on minimal luggage, flying carry-on only, buying (IMO ridiculous) travel clothing you don't need to wash, and flight hacking. I don't dick about with any of that stuff, I consider most of it a massive waste of time or money or opportunity cost.
Contents:
My Digital Nomad Packing List
Travel Booking Tips
Travel Money & Security
Business Tools I Use
Other Items
Note: If an item has a "What I'm buying next" section on it, it means I'm not quite happy with my existing solution, and as soon as I can, I will be replacing my item with my next choice.
My Digital Nomad Packing List
Backpack and Baggage
I travel slowly and I like to travel in relative luxury – I am not trying to take just "carry on" and I'm happy to pay extra to stick 20Kg in the hold. Here's what I use:
The Osprey Sojourn is rugged, looks great and has heavy-duty wheels. It also has a secret compartment which transforms it in to a backpack. In a couple of years, I've only ever used it twice as a backpack, but its cool to have the option. Yes, its an 80L bag, fully packed it tends to weight around 18Kg, but I'm not overly focused on packing lightly. There is also a 60L version available if you want to make sure you're under the 15Kg hold luggage weight limit sometimes seen out in Asia. After 7 years, it's still going strong.
I am totally over using backpacks – they make me hot, I rarely wear them properly, and nothing shouts "TOURIST" like a backpack. So I picked up a messenger laptop bag from Belkin and I am pretty happy with. Can sling it over my head when I need too, easy access for laptop and its smaller size means I can take it on a plane + take a small suitcase with me if I want.
An amazing time saver and a great way to keep stuff together and pack/unpack in seconds, as well as compress clothes and generally keep organised. Travel life changing. I've recently purchased more of these for other items. Doesn't really matter what colors or material, just be wary of ones with big chunky handles, you will never need to use them.
I never realised how much of a pain cables were until I bought this bag and realised how organised it made me. All my cables, spare chargers, and tiny things together in one spot, easy to move, easy to travel with. Brilliant. The "medium" size is perfect for all my gadgets (I don't put my iPad in there, maybe you would).
Work Setup
Holy shit I got a MacBook upgrade and this thing is fire. I can work for nearly two days solid on one battery charge. Unbelievable. If anyone asks what is the best laptop for digital nomads, then an M1 MacBook is the only answer. Seriously, the best laptop I've ever used, and this isn't even the faster 2021 M1 MacBook which I am gagging to buy.
OK, I am currently travelling with two laptops. It's 9 years old now (fuck), but this Mac still delivers me 6-7 hours of battery (replaced a year ago) and is a beast at processing everything I throw at it. The 2013-2015 models are very reliable and cheap to repair – but avoid the 2016-2019 models as the keyboards are terrible.
Essential for good posture and well worth the extra weight in your bag. No other keyboard gives me the same experience with the same levels of compatibility and battery life.
What I'm buying next: Magic Keyboard
Why: Its the upgrade of the last version, now rechargeable (I'm sick of batteries) and with an on/off switch.
Not everyones favourite mouse, but for compatibility and instant connection with the Mac, it can't really be beaten. I've never found another Bluetooth mouse that comes even close. The new one is rechargeable and it will save you time buying batteries wherever you are.
Always thought they were over-priced junk until I needed physio from being hunched over my laptop. 6 months of £50 physio sessions meant that the Roost price seemed cheap in comparison. Do yourself a favour of a lifetime and buy one today (or buy the extremely similar NexStand), but definitely buy something to stop you becoming a hunchback.
A slight extravagance for the price, but it works well and doesn't annoy my wrist or get sticky etc and is super thin.
The AirPod Pro's sound awesome, work for a few hours in cable-free bliss, but then die. I remember to charge them frequently when grabbing a coffee or lunch, but I still find they run out of battery too often to be all day reliable.
The standard Apple EarPods are light, work perfectly for music and calls and are reliable. I still travel with them as the AirPods run out of battery too often.
My trusty iPhone is probably the device I spend the most time on every day. Every where you travel people understand it, it can be fixed easily, and you can find accessories for it in the darkest corners of the globe. 100% get a waterproof model (iPhone 7 up) – I have missed many photo opportunities with older models as I was worried about my phone getting wet.
What I'm buying next: iPhone with Dual SIM (only available in some territories)
Why: Dual-sim slot on some models of iPhone sounds good, and not the eSIM rubbish.
My go-to for reading books. Yeah yeah "Kindle uses a different kind of light". Whatever. I turn the brightness all the way down, put black mode on, it doesn't seem to affect me or my sleep. Easier to find books for, and the iBooks app is beautiful.
Electronics
To keep my fitness in check and minimise my use of the iPhone, I've invested in an Apple Watch. It's many levels up from a Fitbit or Xiaomi MiBand, and the heart rate monitoring is amazing. I highly recommend getting one.
I use this to receive authorisation texts from my bank and keep old SIMs alive – it's a dual SIM phone, lasts around 30 days on a single charge, has USB charging, is super light. The price has recently been put up by 50%, but there is a more basic model for around £15. I don't think you can get much better – a real burner phone!
I love music and I have been travelling with the Anker Ultra Portable Pocket Size Mini Wireless Bluetooth Speaker for fiver years. As reliable as it was, I felt there should be something better – something with multiple Bluetooth connections, possibly with something like Siri. I did a lot of research and ended up choosing the Bose SoundLink Micro, which is 400g small waterproof speaker, and for around £60 it's not too bad.
Everything I travel with is USB charged now so no extra bulky adaptors are needed. This has 3 changeable plugs to cover most countries, and 4 USB ports, so can charge phone, shaver, iPad, Watch all at the same time from 1 socket. Sorted.
A tiny little battery pack that is surprisingly amazing at keeping a charge for weeks on end at the bottom of my backpack, and has saved me a few times when stuck in the middle of nowhere.
What I'm buying next: Something a bit bigger, maybe an EMNT.
Why: I want something with a charge indicator on it, and a torch could be useful.
Fitness
I still have my old gym headphones (VTIN Bluetooth 4.1 Wireless Sport Headphones) but the AirPods are such a good headphone they are now my gym headphones too.
A simple armband case for the iPhone XR. I like the Belkin one, but it's not the cheapest and probably not the best.
I have a weak shoulder and I use this when I can to help strengthen it. But its generally pretty good for exercise and folds up super small.
Coffee
Yes, I love coffee enough to travel with a full coffee setup, ready to go.
Good enough and small enough to make coffee pretty much anywhere. Throw in hand luggage or your case, easy.
Throw away the paper filters that come with AeroPress, get this metal filter so you never need to run around Bangkok trying to find a shop that sells paper filters, sweating your arse off (been there, done that).
Its an OK little grinder, and amazingly it fits inside the AeroPress, so reduced the space this travelling setup takes. The actual grinding takes a while and is a little uncomfortable.
Hygiene
I stopped using a traditional toothbrush years ago, much to the delight of my dentist and hygenist. The Philips Sonicare is a top brush and really cleans the teeth well. It also has the funkiest coolest travel case (which is also the charging unit with a USB connection) I've ever seen. I don't use the weird charging glass that also comes with it.
One of only a handful of USB beard trimmers available, but be quick, as this looks to have already been replaced with a newer model (not USB). Watch out for buying trimmers/shavers with fitted plugs and charging units, they are super bulky.
Clothes
I don't recommend any particular clothing as I think a lot of travel clothing is a complete waste of money. Merino wool, compact ultra-thin clothing, specialist travel pants; you really don't need it. Take what you want, takes less than you need, you can buy stuff anywhere you go. You won't wear 50% of what you take anyway. Job done.
These are the things I typically pack – but I might remove some things if I know I won't need them (i.e. jumpers when going to Asia aren't needed, but are needed for Europe in Winter).
Coat x 1 (try to get one that folds up very small)
Jeans x 2
Jumpers x 2
Scarf x 1
Gym Shorts x 2
Beach Shorts x 1
Day Shorts x 2
T-Shirts x 5
Shirts x 3
Underwear x 7
Socks x 7
Trainer Socks x 3
Pyjama Bottoms x 1
Gym T-Shirts x 2
Jogging Bottoms x 1
Trainers x 1
Flip Flops x 1
Dress Shoes x 1 (sometimes, often for European cities etc)
Belt x 1
Travel Booking Tips
Travel Insurance
Travel insurance is important to have, for me thats mostly about giving peace of mind for your loved ones back home. Make sure your travel insurance includes covering accidents and repatriation. You should book insurance as soon as you have booked your flights. Don't bother trying to get your phone and laptop covered, the costs are crazy; just look after them.
I started off when I was a nomad with Alpha Travel Insurance – this is by far the best deal if you're a beginner nomad – they have a 24 month Long Stay insurance package for around £125. Get the 24 month package from day one, as you can't get this package again after one use (without spending 6 months in UK) and it costs much more to extend it later.
After Alpha Travel Insurance I went with World Nomads and then last year I switched to SafetyWing as it's a simple nice insurance and a couple of the features (like covering you at home) are a nice touch. World Nomads and SafetyWing are some of the only insurance policies out there who cover long term travel – don't rely on your bank free insurance as the fine print will 100% mean you are not covered.
Rarely I hire a car, but when I do, I save a ton of money by using this 3rd party car hire insurance company – no more damage waiver problems, no more last minute insurance extortion. One simple yearly payment, well worth it, and I have used them for 5 years now.
Flights
I wouldn't say I'm the greatest of flight hackers, but I try to get a deal. I always fly with luggage in the hold, and I like flights at sensible times and often fly Business or Premium Economy. I tend to book direct with the airlines, I find you get more control. I use the sites below to help me find the best times and prices to book:
I started using SkyPicker ages ago and loved it, but since it changed its name to Kiwi and they changed their UI, it's just not as good. Can still find some good flights with them but often you get the best prices, especially with LCCs, by booking direct.
Another site with a crappy UI, its made for tourists not for nomads. But you can find some cost ideas with the site, but again, booking direct with the carrier is often better.
A great way to find flights quickly, and sometimes finds routes that other sites don't.
I've found this most useful on long haul flights, managed to save £300 on one flight and this was the only site that offered it. Worth checking for sure.
My most recent flights have been through this company, whatever they are doing they are beating Kiwi and SkyScanner by UI, price and service.
A flight concierge. They've found me great deals in the past, and on amazing airlines. For complex trips, long haul or if you're VA is crap, give them a go.
Accommodation
I've already written about how I find great accommodation at a great price, but worth mentioning again the basic sites that I always check:
Starting to get more and more expensive and less effective in some cities due to legal ruling, it's still worth using to get a feel for prices. Haggling is essential and making sure what you get matches the listing – if not, raise it with AirBNB immediately.
I've signed up and been trying to find some interesting house sits, but not much so far. I'm too picky. But I know lots of people who visit great places for zero cost because of it, and only have to look after a pet while there. Live like a local for free; amazing!
My favourite booking site for consistently good prices and good cancellation times. However, I use an old credit card for bookings as your card number is sent through to hotels in plain text and is often printed on paper and just left around. Not cool.
Another place to book hotels (from the same company as Booking.com). Worth checking prices here as sometimes a slightly better deal.
They have a great rebate tool that gives you free nights after staying 10 nights – so if you manage to get a great price for a long stay, you can easily get 2/3 nights back in return.
Travel Money & Security
Data Security
All of my files are in Dropbox, an instant backup, with a revision history for each file. So easy, doesn't kill my bandwidth (hello Apple iCloud backup) and means that I can access files from my phone too. Life saver in so many ways.
All of my passwords are in LastPass (nearly). Auto-generated passwords means every site has a different login. iPhone integration is great to get passwords on the go. Browser integration is great too.
A good array of locations available, good integration and iOS app, and one of the only VPNs that doesn't activate my Gmail / website login security protocols that I am a malicious user.
What I'm buying next: Express VPN
Why: Just going to change it out and see if its any better, Express VPN seems a popular choice.
Kept at a London location, I can access my Synology NAS any time via internet. It holds backups and files and stuff I don't access too often.
What I'm buying next: External HD drives or cloud backup service.
Why: The NAS is overkill and access to it is pretty slow. I'm going to prune the files, move some to the cloud, and move others to drives that I just access when I need too when I'm in London.
Money, Transfers and Management
This card is awesome. My go to card when abroad and I need cash or to make a purchase. No foreign transaction fees and excellent conversion rates, I can't fault it. Excellent online login system too. If you are from UK, you need to get this credit card.
Revolutionised accessing my money when abroad. Forget using foreigns cards abroad – open a local account and use Wise (previously TransferWise) to transfer money to it. Easily saved me £500+ when in Thailand for a few months on transfer and withdrawal fees.
Gives EUR/USA bank account numbers to receive money, and is now replacing WorldFirst for me as a way to receive money at the very best rates regardless of currency or where I am.
Gives EUR/USA bank account numbers to receive money from companies (like Amazon Associates) and then lets you transfer from there to a bank account anywhere else at interbank rates. An Amazon cheque used to take 2-3 weeks and £100 in fees, now its in my account in 2 days and costs me far less.
Free withdrawals while in Spain is the only reason I would use this card abroad.
A backup card in case my main cards are swallowed. You transfer money to it easily and withdraw it within a minute. A great feature you can turn off cash machine withdrawals in the app, so you can avoid those Bali scammers.
Another foreign transaction card I have had for many years. Wallet filler nowadays, but a useful backup.
My goto choice for forming a UK company, offering near instant setup, mailbox address, postal scan + email service (rare to find this), and of course advice on company formation and legalities.
Business Tools I Use
Business Services
Essential for my business. Professional looking but easy to use through Gmail interface.
Hands-down the best ecommerce software. Forget BigCommerce and WooCommerce, they pale in comparison. Get a month for free with my link.
A great shared inbox tool, that can help you share responsibilities with your team or get your VA to answer email
I didn't realise how useful an SEO/PPC tool was until I got one, and damn this is so useful. Its changed everything I produce and create.
How I keep organised with my team and how I prioritise my ideas. Keeps me on track.
Time tracking by the second, mapped to a shortcut key via TogglDekstop.
Domain Names and Web Hosting
Data caching, SSL and DNS updating for free, CloudFlare is a great way to offer a level of protection on your websites and prepare for surges in traffic. Business account has saved my sites from being taken down a few times.
I moved all my domains to YAY who are a UK-based company. They offer a great deal of features and their prices are extremely competitive. Previously I was using NameCheap but found their admin section to be truly terrible to use.
Switched to Guru.co.uk (from Surpass) about a year ago for all my own websites. Guru are UK-based hosting company, have super fast SSD drives, support Let's Encrypt, have great support, CPanel, WHM, and a great price. My Google ranking has gone up, sales up, commissions up. People like fast websites. Invest in a good website, and don't believe blogger shills trying to sell you BlueHost or SiteGround (because they pay out large affiliates).
Used for a couple of clients who are heavy on WordPress, WP Engine is (one of) the best WP only hosting companies and worth a look.
Hiring, Staff and Getting Stuff Done
Starting to get more expensive as people game the system to upsell, with some searching and trying new users, you can still get easy stuff done for just $5. Try Fiverr out for free with my link.
My go to place for finding freelancers and managing staff. There are a lot of idiots on there, but show me a place in the world that isn't. Be a good manager and communicate well and you can get whatever you want on UpWork.
A more UK-focused website, you can get some great rates on here, although the website sucks arse for usability.
Apps
All my Gmail accounts in one place with custom notifications and low battery usage (compared to Chrome)
The best coding tool available, and its highly customisable and free, it's ace!
My favourite text replacement software that saves me hours per week
Protects your eyes at night and doesnt mess up your body clock
Monitor whats using your systems power
Monitor whats using your bandwidth
Monitor your internet connection and usage
Block websites that zap your time
Other Lists
My wish list and stuff I've bought and then got rid of:
My WishList
These are things I haven't got around to buying yet, but probably will soon.
Why: I want to be able to weigh the coffee I drink and food I make. Yes, I'm weird.
Why: Keep finding a need for this, and its small enough to throw in my bag.
Abandoned Items
Designed for long-haul flights to bend around your neck and let you sleep, its pretty good at what it does, but one of those pillows you can buy at the airport does just as good a job. I don't really fly enough to justify its space so it gone.
I wanted a backpack with a padded laptop pocket, water bottle holder on outside, and that was waterproof (to a certain degree) and this was a quick fix thats lasted me well. But ultimately, I hate backpacks so got rid of it.
I wanted a small daypack for trips when I didn't take my laptop. This was one of the better foldable bags I've found – it just about fits my frame, it has 2 decent straps, and has multiple pockets. This replaced the terribly awful Sea to Summit Ultra-Sil Backpack which you should avoid at all costs. But then I got rid of this bag too as honestly it was fucking awful, better off just buying a proper hiking backpack if you really must have one.
What have I missed in my digital nomad packing list that you travel with? What are the things you were expecting me to use for my business and travel that I don't? Let me know your thoughts in the comment below!