A brief update about working on Koh Lanta as a digital nomad, a small island off the south coast of Krabi Province in Thailand.
I've spent a good amount of time on Koh Lanta working as a digital nomad, so got to explore the place pretty well. Internet connectivity is pretty good on the island, I guess due to its close location to the mainland, and all the way down the left of the island it seems to be pretty stable. On the right side of the island (and especially Old Town) the internet is not great. 4G is widely available through the island (although annoyingly not where I lived on Prae'Ae beach). Either way, you can definitely work on Koh Lanta.
Cafes to work from on Koh Lanta
I love decent coffee and working in cafes, so while I was there, I started a list of places on the island to work from alongside their internet speeds, plus if they have AC or not, the price of a coffee and a few other things. It also lists if the place is open in "green" season, as some of the places on the island are only open for half the year.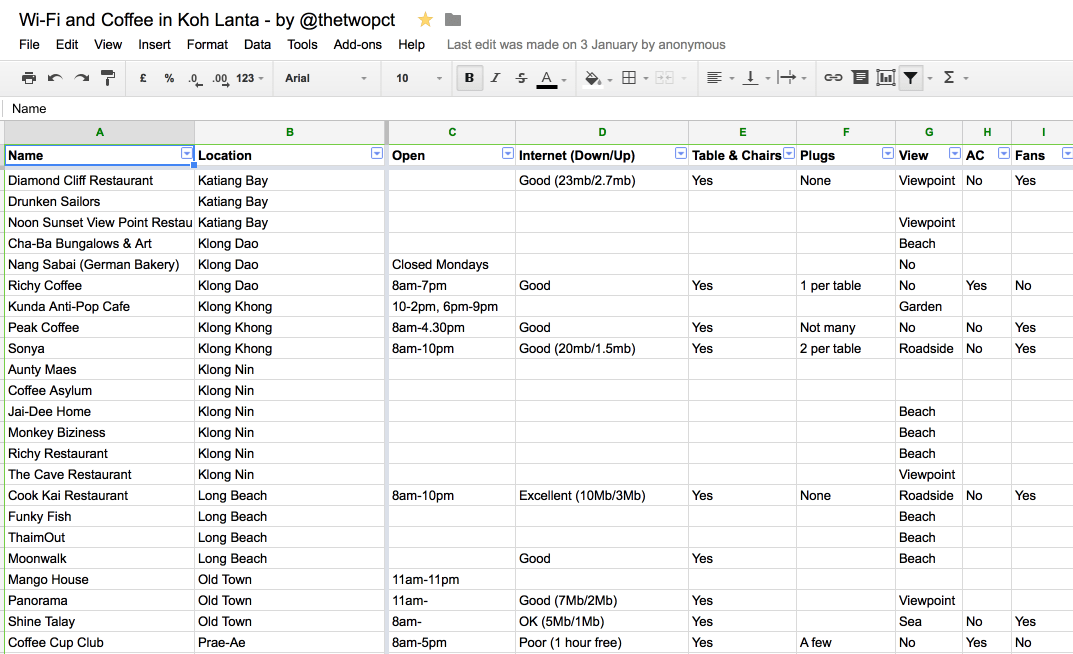 Get the list of places to find Wi-Fi and coffee on Koh Lanta – https://bit.ly/lantaWiFi
This is a public Google Sheet document so it can be updated and edited by anybody, so feel free to add your favourite spot or update some of the details.
I also created a Foursquare list of some of the best cafes – check that out on Foursquare.
Coworking on Koh Lanta
Koh Lanta is possibly one of the best places I went to in Thailand for its working/nomad community, probably only after Chiang Mai, and this is largely down to KoHub, the islands only coworking spot. James, the owner at KoHub, and his staff have done a great job at making a community around the space, and due to the islands size, you are never that far away from someone to hang out with.
Internet speed at KoHub is some of the fastest on the island, I don't remember the exact speeds (speedtest.net let me down), but it's fibre and fast – the owner posts regular speed tests on their website. They also have generators for backup power (there are frequent power cuts on the island) so this is a big bonus.
Best Resources for visiting Koh Lanta
Join my Facebook group for Koh Lanta – Koh Lanta Digital Nomads.
Join the Kohubbers Facebook group – Kohubbers.
Once you arrive at KoHub, staff will give you details to join a WhatsApp group which seems to be the best way to chat to nomads on the island.